You have a great idea for a business or maybe even a passion project. One of the most exciting things about starting up is dreaming about how you'll leave your mark.
After all, there's a certain sense of pride with how that particular mark will look, and how it will make you feel. More importantly, you begin to wonder how it would make the rest of the world feel. It's the beginning of your potential legacy. There's a lot of things to consider here.
When you think about your unique, physical mark, you want to make sure it's of genuine artifact. You want it to represent the core message your business or passion communicates. There's so much power invested into a symbol, from ancient Egypt to Greek mythology, you realize how much symbols still influence society today; from gender signs on public bathrooms to corporate branding and cultural groups. Likewise, your mark is what will build a distinct recognition for your brand.

No one ever remembers what you say or do, but they will always remember how you made them feel.
I'm a huge advocate of the notion that "No one ever remembers what you say or do, but they will always remember how you made them feel." The choices you make on how your brand appears, will immediately reflect how your audience feels about it. A brand is more than just a logo. In fact, more factors should be considered before even designing one. But we can argue your logo is often your audience's first impression of your brand, so it's important not to overlook the entire process of establishing proper brand guidelines.
Your brand guidelines should be consistent throughout all of your marketing initiatives and materials, whether it's print media such as your business card, or digital assets such as your website. You can strengthen brand familiarity by offering a consistent design experience throughout. At the same time, don't be afraid to break the mold creatively for your brand's more artistic works such as posters and videos. Many successful marketing campaigns led by companies like The Marketing Heaven involve stretching the boundaries of artistic license. It might sound cliché, but thinking outside of the box here is essential in creating something unique that people will love.
So what makes a great brand by design? What should you include in your brand book or brand guidelines?
There are four key components to consider when designing your brand..
Click on each key component above to learn more.
If all of those can align to the following 4 guidelines, you've got your recipe to an effective design framework for your brand.
Easy to remember

Fresh, but familiar

Clean and timeless

Invokes an emotional state-change
From here, you should have enough information get started on designing your brand and making your mark on the world. 🙂
If you're ready to learn more about the process of designing a brand and some of the tools it takes to do it, move onto our next section which covers how to the perfect color scheme.
Otherwise, don't hesitate to reach out if you'd like to chat about how I can help you get this whole process rolling for your business or brand.
> Continue To Brand Design: Color Scheme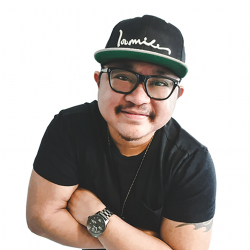 Latest posts by Chris Javier
(see all)